Parts & Service
FORKLIFT SERVICE & REPAIR
Our service technicians are friendly and approachable and will be eager to explain any repairs before they start. Our service trucks are equipped to do repairs from simple oil changes and lube jobs to major problems and emergency breakdowns. Our shop is a complete service facility, capable of doing a wide range of forklift repair jobs by having all the right equipment whether it be welding, machining or rebuilding equipment to stocking a large quantity of forklifts parts.
We also have a preventative maintenance program for your forklift.
SHOP SERVICES

Hydraulic Hoses
Equipment Overhaul Centre
Hydraulic Cylinder Repair
Welding & Fabricating Shop
Parts Department
Sandblasting & Painting Available
Fully Equipped repair facility for any size of repair
FIELD SERVICE & REPAIR

Service Vehicles to do on site repairs
Preventative Maintenance Programs Available
Our Service Vehicles are fully equipped to handle the regular maintenance of any forklifts as well as any no start problems, emergency break downs and repairs.
Our service trucks are a mobile shop with major shop equipment and tooling as well as having a good selection of parts and supplies. This makes it easier to do major repairs on site.
As well as on site, exhaust gas analysis (emission control).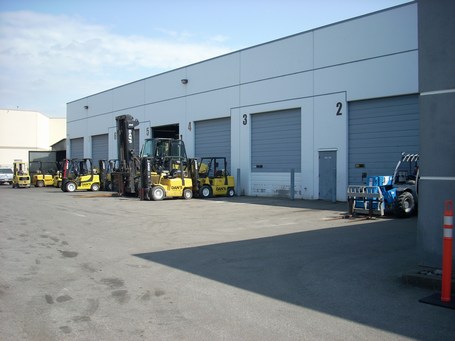 We also make hydraulic hoses!